In the illustration below…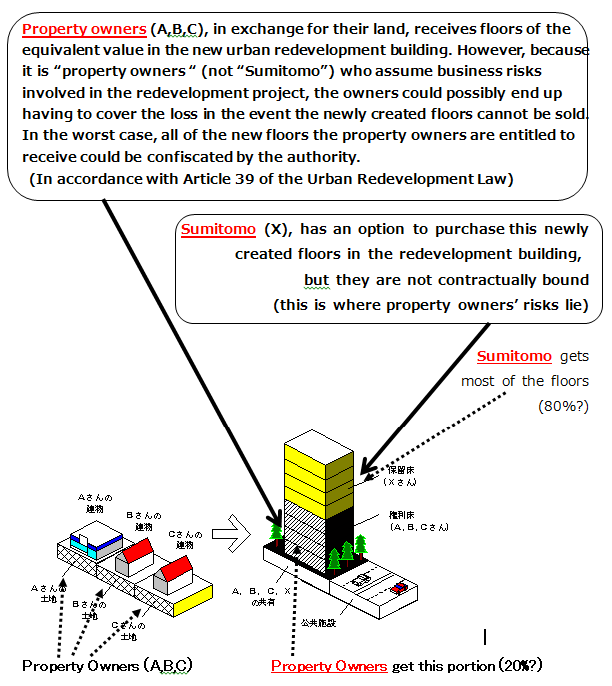 An illustration of urban redevelopment
(Source:Ministry of Land, Infrastructure, Transport and Tourism, Japan)
For example, a new 40-story high-rise building was constructed, but neither Sumitomo, nor any other private or public entities decide to buy the newly created reserved floor space. In this instance, the property owners will be left holding the bag: they would be jointly responsible for the business loss arising from construction of this redevelopment building.
If the amount of loss is nominal, then it is likely that the property owners' floor space that they are entitled as a result of "equivalent exchange" will be reduced so as to offset the loss. However, if the amount of loss is significant, then the property owners could possibly lose all of their floor space, in accordance with Article 39 of the Urban Redevelopment Law.
Summary:
Under the current urban redevelopment mechanism, property owners in Sengakuji must give up their precious land for the project, and at the same time assume substantial project risks. Nevertheless, they are basically entitled to receive only a certain area in the new building floors in the name of "equivalent exchange" as a consideration. However, even this portion is not guaranteed because of the fact that they have to assume project risks.
On the other hand, the situation is totally different for SUMITOMO. The project would be quite lucrative for them because a relaxation of the floor-area ratio will allow them to design a high-rise building, with an option for them to purchase newly created floors while shifting principal project risks onto property owners.
It is critical to note that a redevelopment project can be successful for all parties. However, both developer and property owners must work together with transparency and good faith.
Unfortunately, this seems difficult to realize with SUMITOMO as the developer. The record shows that they have engaged in a pattern and practice of unfair and unjust conduct toward property owners in order to coax them into providing consent for the project. (Please refer to topics: (1)SUMITOMO's Unfair and Unjust Practices for more in detail.)